Four hands and a few machines are all that is needed at the workshop on Engarn. Åke Axelsson, one of Sweden's best-known interior architects and designers, is now selling his ecologically friendly furniture direct from his own workshop via his online shop. The furniture is made by Åke himself together with furniture-maker and employee Daniel Eriksson. Master upholsterer Helena Engström works from her studio in Stockholm.
The furniture is made from renewable materials and incorporates a long-term perspective. "The concept is greater than just making sales. It is about devotion and sustainable development. This is a small-scale industrial workshop for furniture, which acts as a complement to factory-produced furniture," says Åke. It couldn't be more relevant, given the market's increasing emphasis on local production and environmental considerations.
Åke Axelsson's career spans more than 60 years, from the 1950s to the present day. He has designed and made countless interiors for libraries, restaurants, schools, churches and museums. It was in conjunction with designing interiors that many of his famous chairs were created. They have come to market and are manufactured by the renowned Gärsnäs, of which Åke is part-owner along with his daughter Anna Klockby and her husband Dag Klockby who is CEO.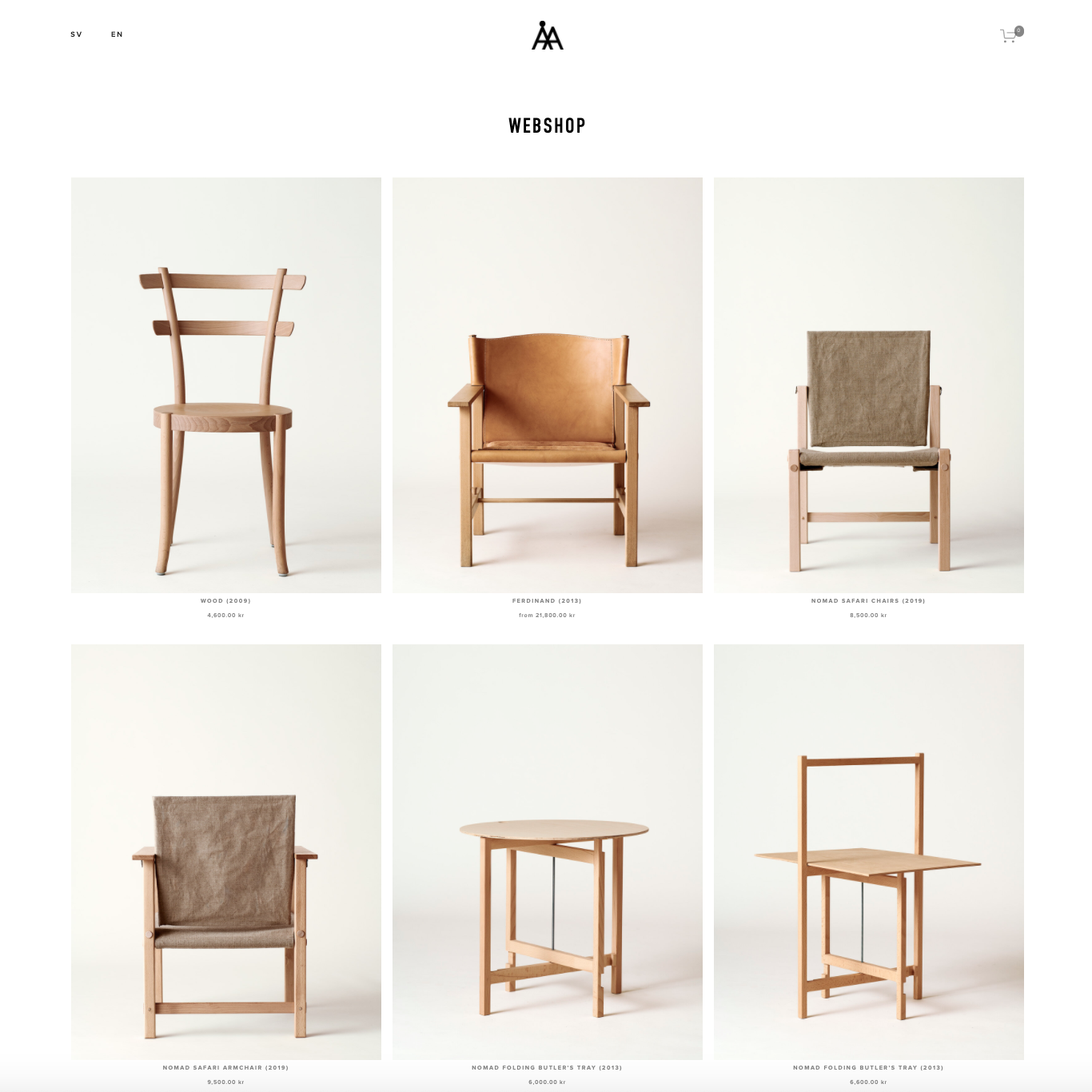 Now Åke wants to sell his self-made furniture to the private market. It was his ambition already in the 60s, when he left his interior design firm and started a workshop, housed in Vaxholm's Stadshotell. Back then, he was maybe too optimistic. It was hard to survive by selling furniture over the counter. So Åke returned to his interior design job, but kept his workshop as a place to make prototypes. The balance between designing interiors and furniture became his hallmark. In the 80s, he moved to Engarn, close to Vaxholm, where home and workshop have grown over the years. A new separate workshop was built in 2017. And the designs continue to come: new models and furniture, most recently a nifty step stool for libraries.
The online shop is currently selling several models from Åke's workshop. The Nomad family of furniture was launched as "ecological functionalism" in 2013, but has since been improved and simplified further. "Now, it is finished, I cannot develop it any further. This chair is among the best I have ever made," says Åke. A cute child's chair is also for sale, as well as several of Åke's classics from Gärsnäs. 
The furniture can be ordered in a range of variants with different cushions and materials. After several weeks, a flat-pack package is ready for delivery. Branded with the initials ÅA, of course. 
For more information, please visit Åke Axelsson's website. Welcome!